LINK can rally +25% due to stacking launch in December
Published on
November 29, 2022
---
Key points:
Chainlink appears poised for a 25% price increase in the days leading up to the launch of the staking protocol.
It will be launched on December 6th.
LINK also can gain value as an oracle due to its Proof-of-Reserves auditing service.
For now, LINK bounced from its support targeting 9$. If false, we should expect a 4$ range.
---
Chainlink Price Rises Ahead of Staking Launch
The staking feature, which will go live in beta mode as v0.1 on December 6th, is part of the so-called "Chainlink Economics 2.0," which focuses on increasing reward possibilities for LINK holders to "increase the crypto economic security" of Chainlink oracle service.
Previously, Chainlink users had to start their own nodes in order to be rewarded with LINK tokens. The staking feature effectively opens up new avenues for them to earn LINK rewards, which could theoretically increase demand for the token.
Additionally, demand for LINK's parent platform Chainlink, as an oracle service provider, should also increase.
David Gokhshtein, the founder of blockchain-focused media firm Gokhshtein Media, believes this could happen after the recent FTX debacle.
The analyst highlighted that traders have been seeking more clarity on exchange reserves following the FTX fiasco, which could spur demand for oracle services like Chainlink, which in turn could drive up the price of LINK.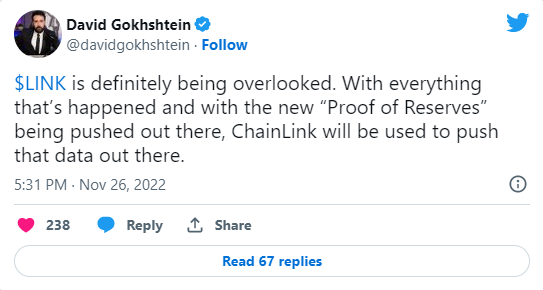 Chainlink Labs launched a PoR audit service for exchanges on November 10.
This speculation has helped the LINK price rise over the past few days. Notably, the Chainlink price is up 35.50% eight days after hitting a local bottom around $5.50 — trading as high as $7.50 on Nov. 29, its highest level in two weeks.
As the price technicals suggest, the LINK/USD pair is now seeing an upside in the short term.
Failed LINK price breakdown
LINK regained its multi-week ascending trendline support on Nov. 29, three weeks after losing support in the FTX-led market sell-off.
As a result, the Chainlink token also invalidated its current ascending triangle split at $4.
It is now trading within the range of the pattern and will bounce back above the trendline near $9.40, up 25% from current price levels in the second week of December, as shown in the chart below.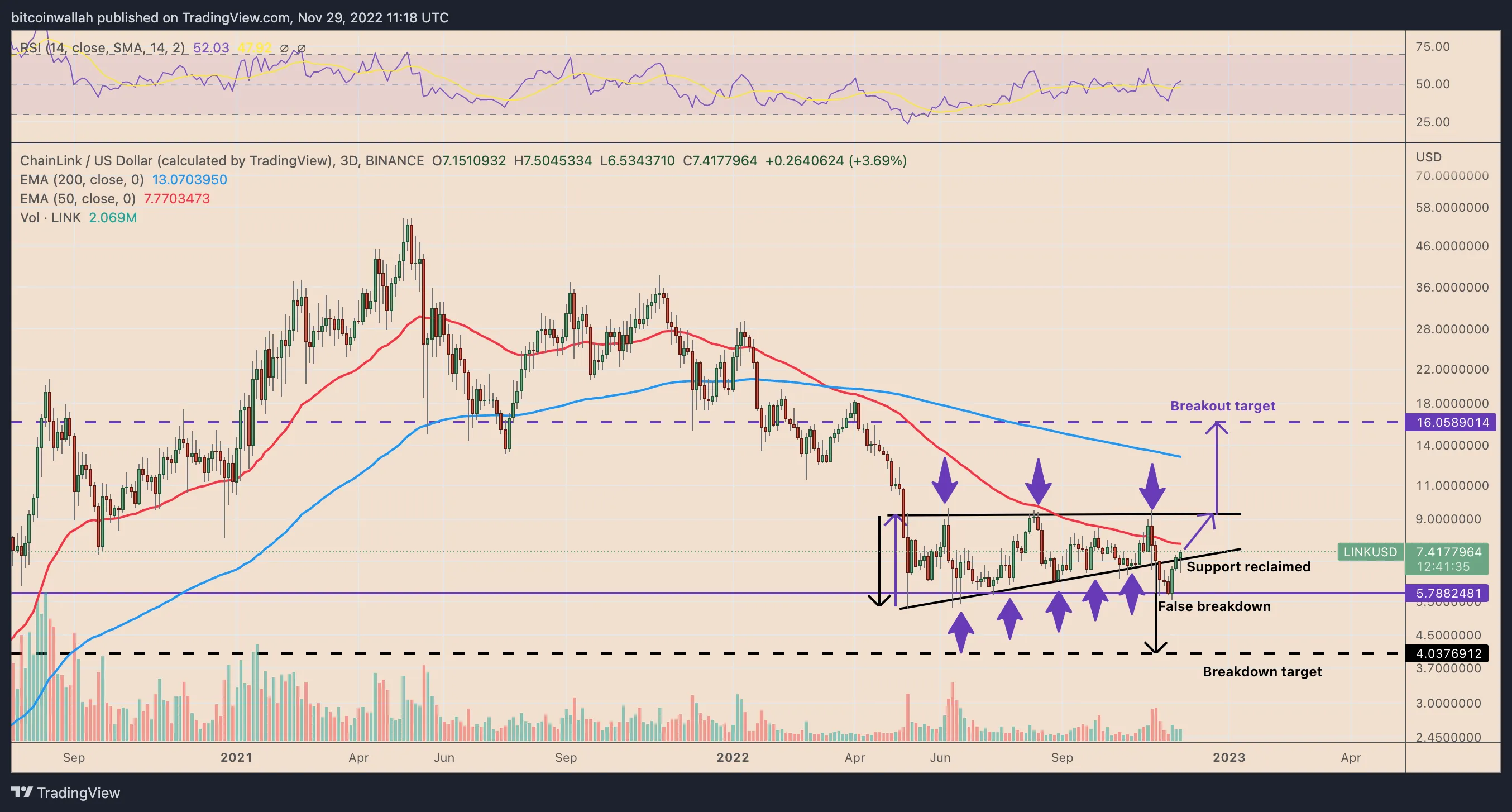 Michael van de Poppe, market analyst and founder of Eight Global, also expects LINK to hit or break the $9 mark.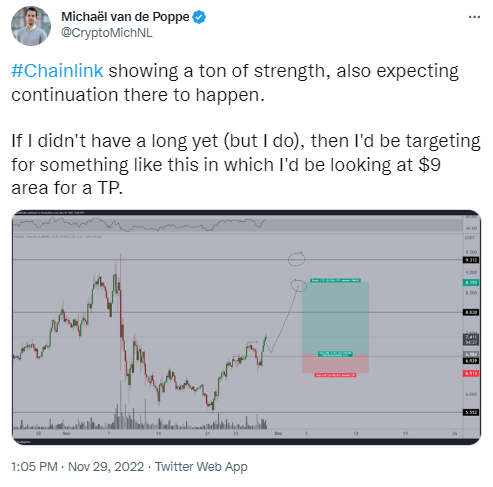 Additionally, a bullish continuation above the $9.40 resistance could see LINK's next target at $16, which is the target of the ascending triangle breakout.
Conversely, another break below the triangle's lower trendline opens the possibility of another drop toward $4, which is about 45% lower than the current price.
---
From the blog
The latest industry news, interviews, technologies, and resources.
Comprehensive Btcman guide to show the perks and propositions of pragmatic play provider💲One of the most famouse in the casino gaming industry
Comprehensive Btcman guide to swing trading crypto strategies, bots, taxes, platforms, and indicators for profiting from medium-term price moves.
View all posts