How to transfer money from crypto.com to a bank account
Here you will find out how to transfer money from crypto.com to a bank account. Check a full guide to get your crypto from a crypto exchange to a debit card.
Published on
January 30, 2023
This instruction will answer your question on how to transfer money from crypto.com to a bank account. It will guide you step-by-step from a cryptocurrency on your trading account to fiat money on your debit card.
Here is a short list of actions you will need to complete:
Open the

Crypto.com

exchange

Set up a

USD fiat wallet

Sell your crypto

to fiat.

Request a

withdrawal

.

Add a

bank account

.

Confirm the

request

.
This process is not that hard, but it requires a decent amount of steps. We will make it done together in just a few minutes. So let's dive into each step with detailed instructions.
Set up a USD fiat wallet
You can't directly convert crypto to fiat on your trading account. You have to set up a separate USD fiat wallet. It is a simple process that requires a few steps:
Go to the "

Accounts

" section

Open a "

Fiat wallet

"

Click on "+ Set up new currency

"

Select "

US dollar

"

Read and agree with the

Terms & Conditions

, then click "Next"

Submit your

SNN and Residential Address

.

You can check any additional information about setting up a fiat wallet on a crypto.com
guide page
. But you will probably want to know further information instantly:
Who can have a USD fiat wallet?
U.S. residents who can confirm their person with an ID or driving license, and a phone number.
What Information is required:
U.S. Residential Address (P.O. boxes are not acceptable)

Social Security Number (SSN)
Sell your crypto to fiat
Once you have a USD fiat wallet, you will need to sell your crypto to fiat. Here is how you can do that:
Open "

Accounts

"

Click "

Fiat wallet

"

Click "

Sell crypto

"

Choose the crypto you need to

swap to fiat

.

There will be a field to enter the

number of tokens

you want to swap.

Then you will see a

confirmation

of the current value of the assets in USD.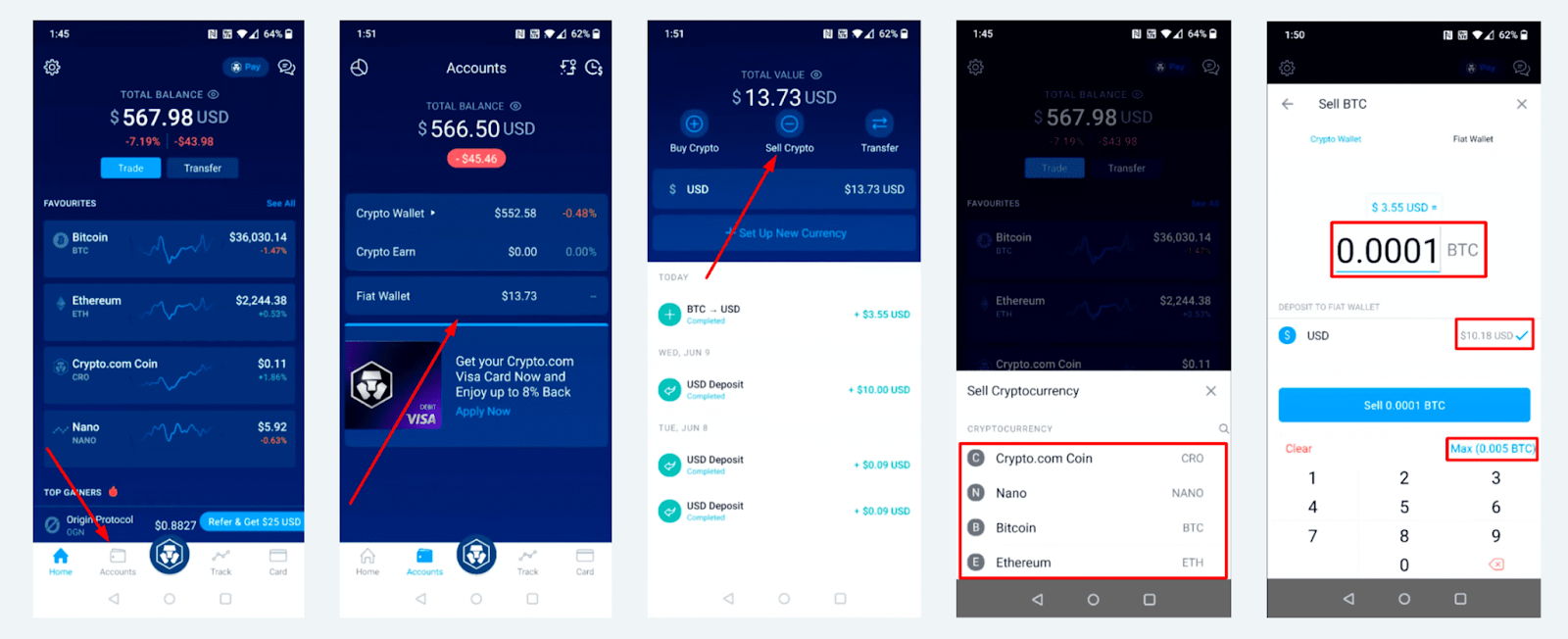 By typing in an amount field, the app will suggest the max amount of crypto you can sell.
You should also pay attention to a confirmation window as it will show the right amount of fiat you will get at that moment for the crypto you want to sell.
Request withdrawal
So we've got the wallet set up and the crypto sold for fiat. Now we need to make a request for a withdrawal.
On the main page tap "Transfer" > "Withdraw" > "Fiat" > "USD".
Then select USD balance and click "Withdraw USD". Now you can enter the amount of USD you want to withdraw.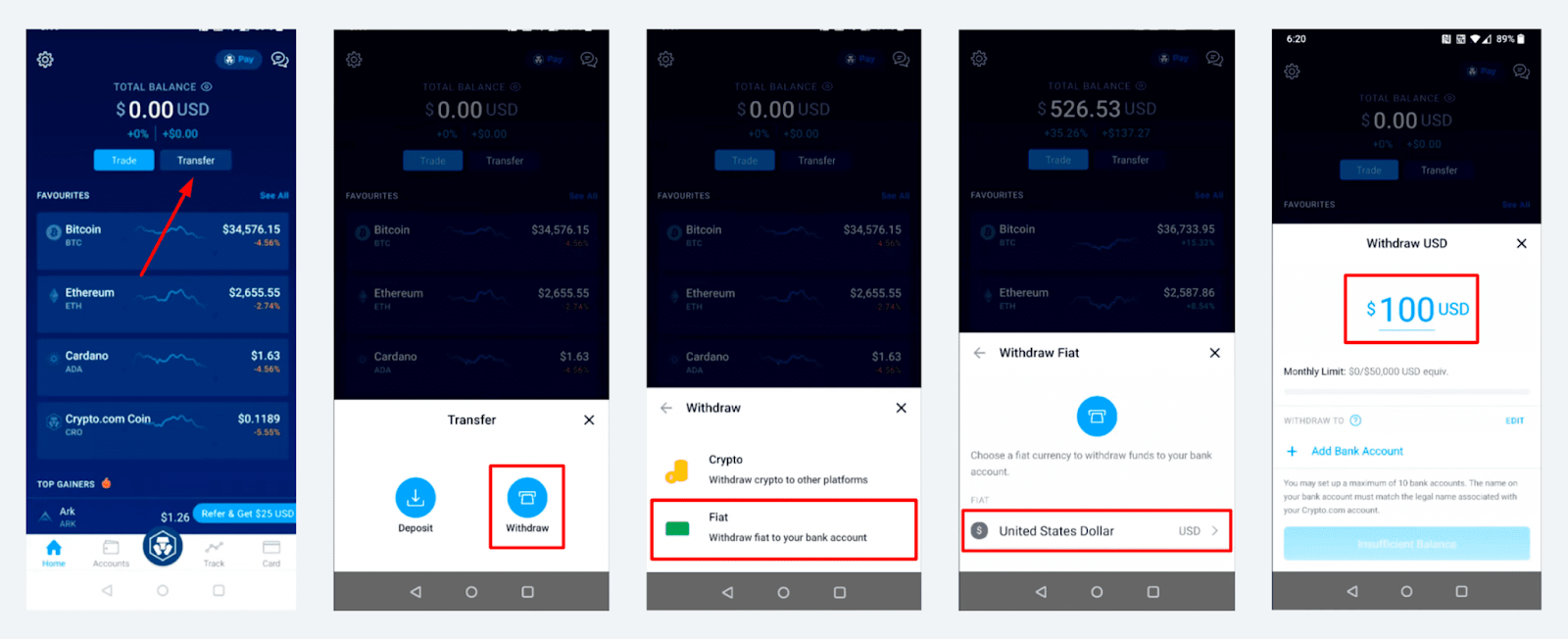 What are withdrawal limits?
| | |
| --- | --- |
| Minimum sum for withdrawal (per request) | 100 USD |
| Maximum sum for withdrawal (daily) | 100,000 USD |
| Maximum withdrawal requests (daily) | 5 requests |
| Maximum sum for withdrawal (monthly) | 500,000 USD |
| Maximum withdrawal requests (monthly) | 30 requests |
Add a bank account
If you don't have a bank account connected to your crypto.com account, you can do that at the "Withdrawal request" page. Just follow the next steps:
Hit the "

Add Bank Account

" button.

Click "

Continue

" on a Plaid page.

Select your bank

from the list.

Log in

to your bank account with online banking credentials.

Verify your identity through the 2-factor verification.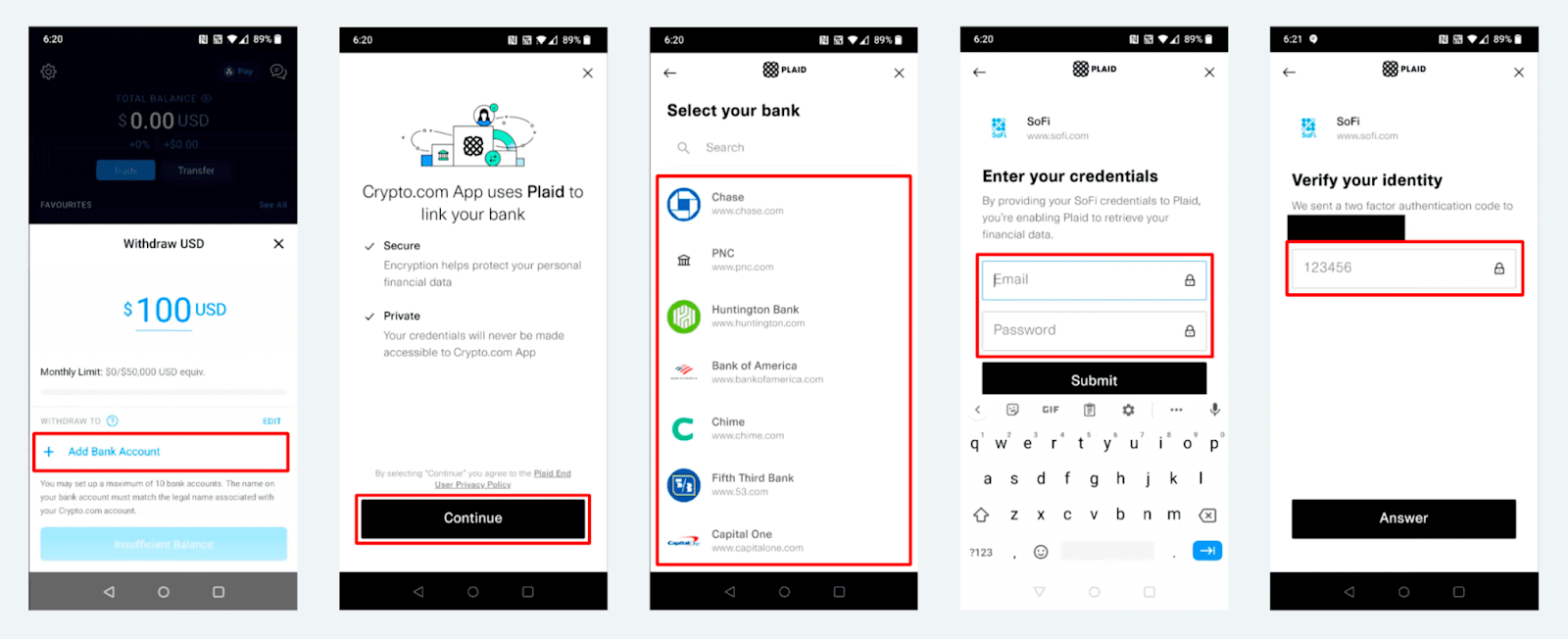 You can add up to 5 bank accounts to choose from at the next withdrawal.
The bank has to support the ACH network. If you are not sure whether your bank support that type of transfer, simply check if it is on a list of available banks on the "Add Bank Account" page.
What is Plaid?
Plaid is a data network and payment platform that helps make bank account transfers easier. This service facilitates the linking of your bank account to Coinbase by providing a faster, safer, and more reliable method of depositing than traditional test deposits.
Confirm a withdrawal request
Once your bank accounts are successfully added, you can choose one for withdrawal.
Check the details first. Make sure you've entered the right sum of money and the right bank to withdraw. Then click the "Withdrawal" button.
The transaction takes some time to proceed. Its status will be displayed on the screen.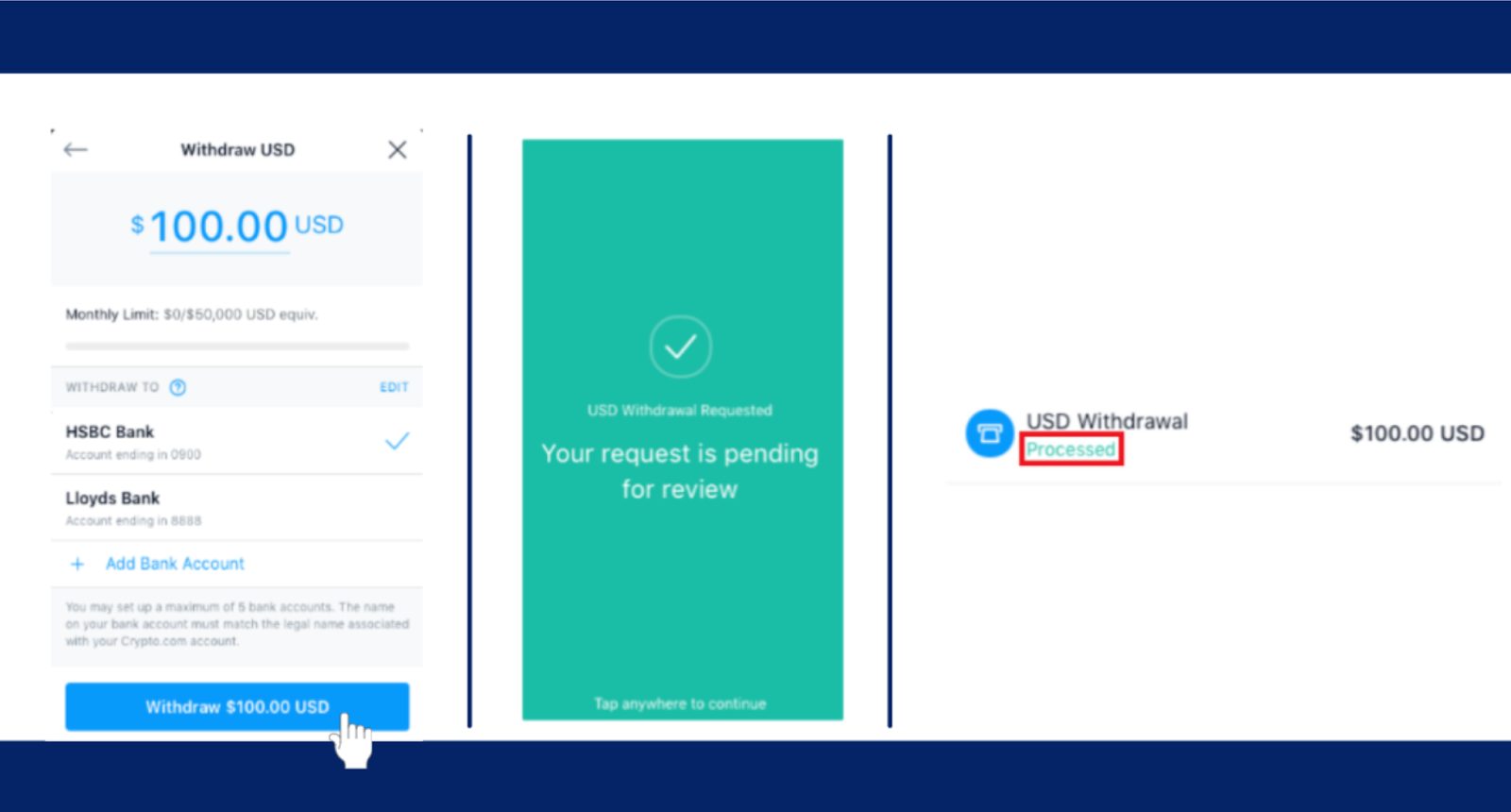 At this point, you might have your funds in a bank account successfully transferred. Still, you may have more questions about this process. You can visit the crypto.com guide page on how to withdraw fiat USD to get all the answers.
Conclusions
As you can see the process is straightforward and easy but requires a few steps. You basically need to set up a USD fiat wallet, sell crypto for a fiat USD, add a bank account and request a withdrawal.
That's it, now you know how to transfer money from crypto.com to a bank account. Hope you not only know but also have already converted your crypto from a trading account to fiat on your debit card.
You can find more useful guides, complete analysis, and up-to-date news of the crypto market on our informational resource Btcman.io
F.A.Q.
Can you withdraw fiat from crypto com?
You can transfer fiat money to a bank account from your crypto.com Fiat Wallet. Only users from the U.S. are eligible for fiat withdrawals.
It's worth mentioning that bank accounts, that are linked to a NY address, can not be facilitated.
Also, your bank has to support ACH transfers. You can check that on a list of available banks while connecting your bank account.
Why can't I withdraw my money from crypto.com?
There are a few possible reasons:
You are not a U.S. resident. Or not a resident of the other countries acceptable for fiat withdrawals.

A bank account is not connected to your Fiat Wallet.

Your bank account is connected to an N.Y. address or does not support ACH transfers.

The sum of money for withdrawal is less than 100$.
Check the complete instruction and tackle your problem with our guide.
How long does it take to withdraw from Crypto com to the bank?
From 3 to 5 business days. The status of the transaction will be displayed on the app. You will get a confirmation letter in the mail and a push notification in the app, once it's done.
How much does crypto com charge to withdraw?
You will not be charged for a USD withdrawal from the app.
In the case of the crypto withdrawal, the amount of fee depends on a token and the network. For example, Ethereum's withdrawal fee in the ERC network will be 0.004 ETH, and 0.0001 ETH in the Polygon network.
You can check the Fees & Limits page in the crypto.com exchange app.
How do I get my money out of crypto?
You just need to complete a few easy steps explained in this guide.
In short, you have to sell crypto for fiat and withdraw it from your Fiat Wallet to a connected bank account.
In case one of those steps sounds new to you, check out this guide and get your money from crypto.
---
From the blog
The latest industry news, interviews, technologies, and resources.
Comprehensive Btcman guide to show the perks and propositions of pragmatic play provider💲One of the most famouse in the casino gaming industry
Comprehensive Btcman guide to swing trading crypto strategies, bots, taxes, platforms, and indicators for profiting from medium-term price moves.
View all posts